Fly fishing Victor, Idaho
North America By Tom Dempsey 09/2016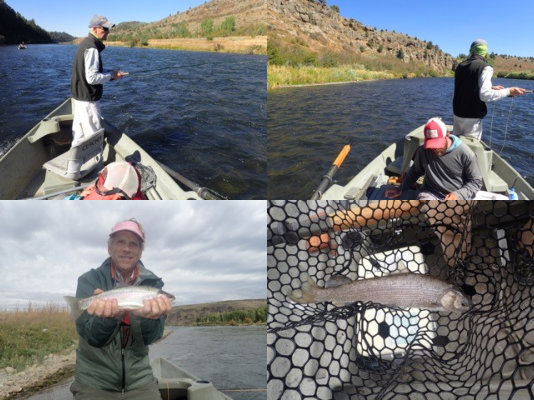 Just returned from a 4 day trip to Victor, Idaho. Made two float trips and two self-guided excursions with fellow instructor, Dino Frangos.
The first day was a trip down Henry's Fork. Found some nice sized rainbows and white fish. White fish are often ignored because of their "blue collar" appearance, but I can tell you they are fighters just like more glamorous game fish. All were caught on double and triple nymph patterns in the 20 to 22 size.
The next day we visited Fox Creek and Nickerson Bridge. There  were few rises on the Fox, probably a result of the 40 knot winds. Caught one good rainbow right in the middle of the only rise I saw. Then on to the Nickerson Bridge and more wind, but also more fish. Gives a whole new meaning to casting in the wind. Also it makes it difficult to see the dry fly floating.
On day three we floated the South Fork Thrush Canyon, 28 miles. Good thing we had a motor assist. Nymphs first then dries. Dino hooked a good rainbow and cutthroat on a purple dry. What a beautiful run and the rain gods were good to us.
Day four started with rain, 41 degrees, wind and snow in the pass — but by the time we got to Flat Creek the heavens smiled on us, but the fish gods didn't. We saw a ton of troops sized cutties at the first bend and they had no interest on anything in our bag. Still a great venue and we'll get them next time.
Victor, Idaho is situated thru the pass from Jackson Hole, Wyoming, smack dab in the middle of some of the best trout fishing in the US. The fly shop in Victor is first class. World Cast Anglers fly shop has over 40 guides that filter out to some 20 different rivers, offering the angler an endless supply of fishable waters. With so many spots to fish, crowds are rare, I like that. Overall a great trip