Dr. John with a nice bone in the Bahamas.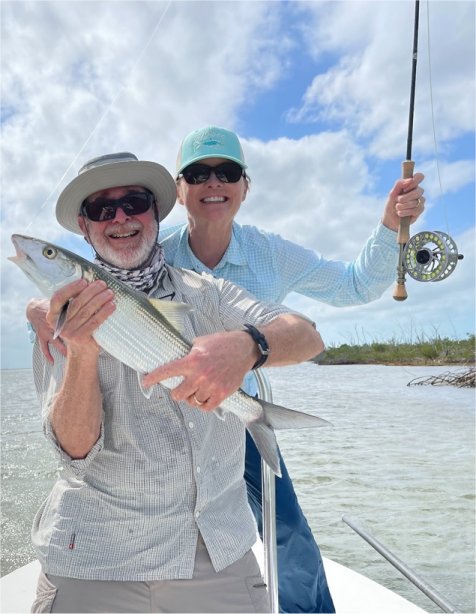 Caroline With a nice cutthroat fishing in Idaho with her father.
Vincent Danna winner of the most Rio caught in New Orleans Rio tournament. Presenting the trophy, A.J. Rosenbohm, Club president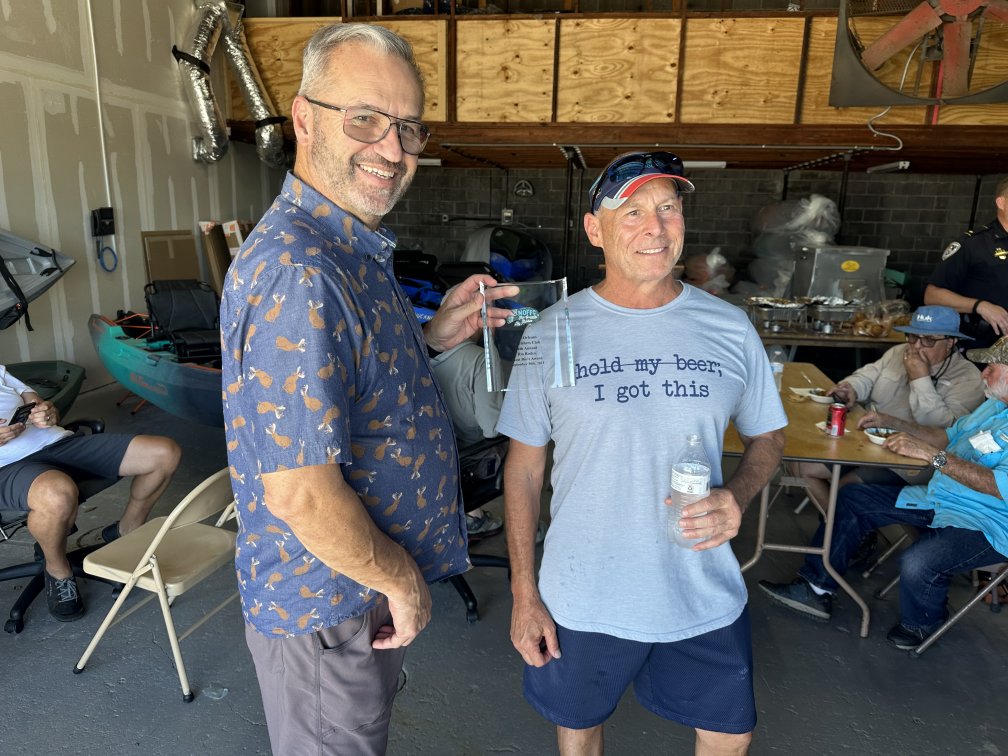 Caroline with a chunk of Brown on Fox Creek.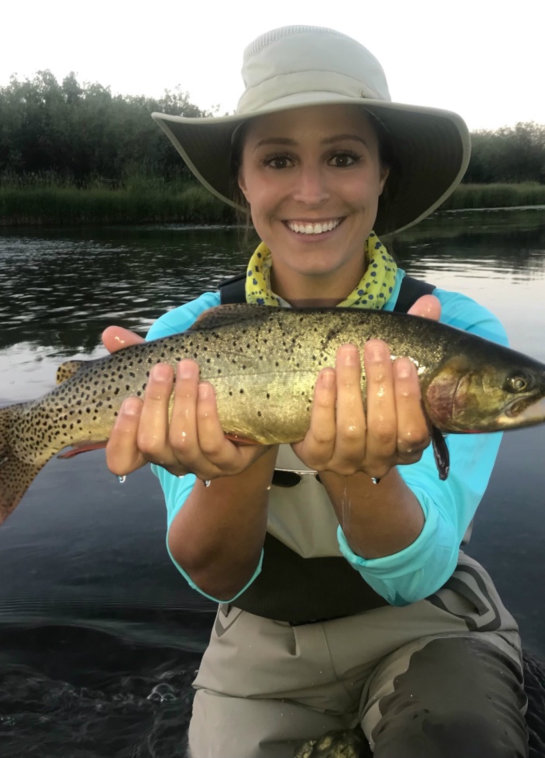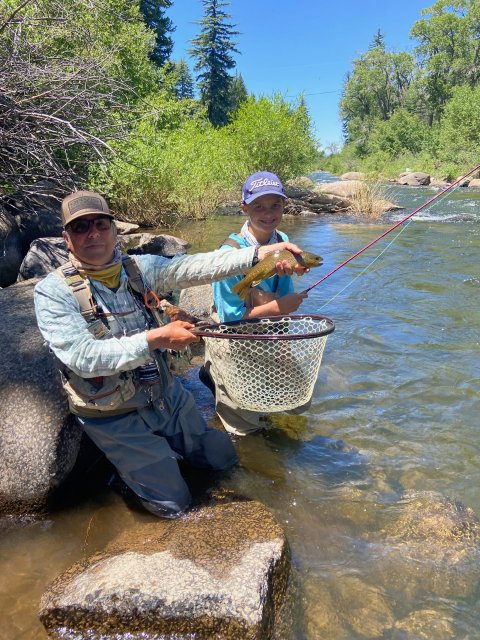 Instructors Dino Frangos, Tom Dempsey, Tom Jindra, Dwight Yoder lend their expertise in fly casting  June 17 at Peter Jordan's fly shop in Daphne – Delta Marine and Outfitter.
Fly Fishing with Kids 2022
The Eastern Shore Fly Fishing Club was honored to host an event on March 19 at Weeks Bay:  Fly Fishing with Kids.  Over 100 kids signed up for a day of fly fishing, fly tying, touring and many other activities on the water attended by members of the Eastern Shore Fly Fishing Club.  There was instruction in fly casting and the kids got to tie flies, there were lectures and tours of Weeks Bay.  All of this was provided for the local community to help introduce and promote the sport of fly fishing.  A special thanks goes to Danielle and Noble Davidson for spearheading this project.  Hopefully it will become an annual event that many more kids can enjoy and learn a skill that they can practice the rest of their life.
On Saturday, March 12, 2022, Peter Jordan who owns and runs Delta Marine Outfitter in Daphne, AL.  hosted a two-handed clinic with instructors Tom Jindra from New Orleans and Dwight Yoder from Mobile.  With the entrance in two-handed casting, this clinic offered the local fly fishermen the chance to test some of the new rods and learn some techniques for using spey rods and switch rods.  This is an exciting and new way of fishing to the Gulf Coast but it is certainly adaptable to our geography.  With any questions about instruction or equipment contact Gulf Coast Fly Fishing School.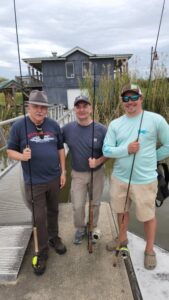 Rare Species
This rare species of fish was caught recently in the Biloxi marsh.  Known to appear around Christmastime, this rare catch was a first reported in the Biloxi marsh.  There have been numerous sightings, but until recently these were only sightings and no confirmation of the fish existence was made until Dr. Dempsey landed this beauty. 
If one listens very closely the soft drumming noise emanated from the deep gut of this fish that sounded much like a muted "ho ho ho".  All anglers should be discouraged from being "naughty" by keeping this catch and / or encouraged to be "nice" in letting him return to his native waters.
Once in a Lifetime
Briefly fishing in the Biloxi marsh with David Buckner of HOSSFLY, a rare occurrence was witnessed.  If you will look closely at the picture, you will see that there are 2 flies in the mouth of this redfish.  Tom and Dave casted simultaneously and the fish ate both flies at the same time.  There was an attempt to try to find an establishment selling lottery tickets on the way home from catching this monster to ensure the day would have been finished with a slam dunk.
Dr. Thomas Dempsey was recently recognized by the Gulf Coast Council for Fly Fishing for his excellence in education. This award is given yearly to the individual who contributes to the sport of fly fishing. This was based on his participation and expertise in fly casting and other educational ventures. Dr. Dempsey is also a candidate for the board of directors for the Federation of Fly Fishermen International and hopes to draw some attention to the vast and varied opportunities for fly fishing on the gulf coast if he is appointed.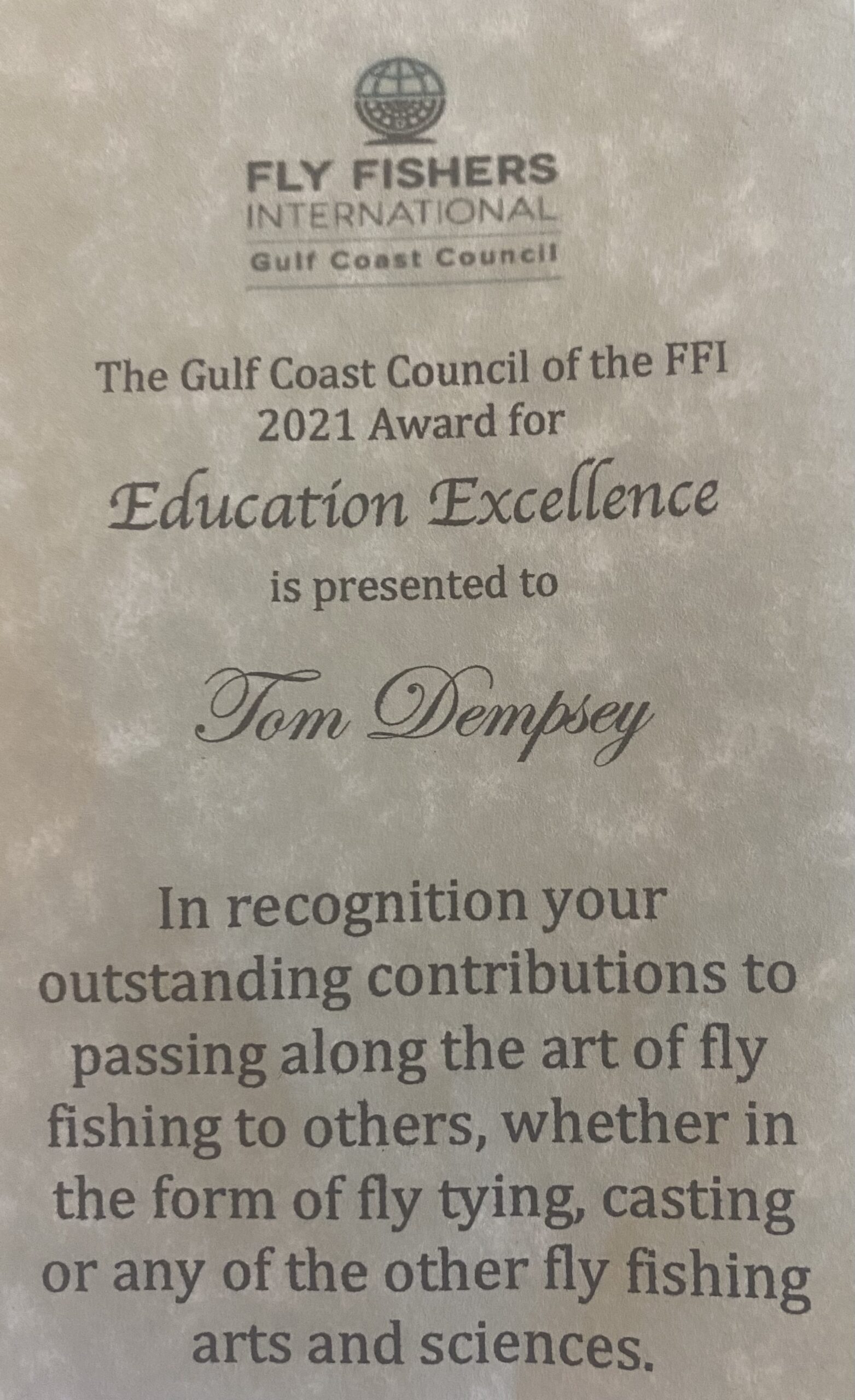 Casting For Recovery 2019
Casting For Recovery is a non-profit organization formed in 1996 in Manchester, Vermont, by a breast cancer surgeon and a fly fisher. The goal is to provide, at no cost to women with breast cancer, retreats where they may find inspiration, renewed energy for life, and experience healing connections with other women and nature. Why fly fishing? For women who have had radiation or surgery, the gentle movements in fly fishing can offer a soothing method of physical therapy. Couple that with nature and you have a powerful medicine.
There were 14 women and at least twice as many volunteers for the 3 day retreat at Steelwood in Loxley, Al. Richard Miller, owner and developer of Steelwood, was a gracious host in a beautiful setting at the club house on the lake. Susan Gaetz, the national program director for CFR and a 20 year volunteer made sure every minute during these 3 days provided something that everyone could take back home to enrich their life. Currently CFR offers 60 retreats across the country serving some 800 women.  The Gulf Coast Fly Fishing school was honored to participate in this event. For more information go to Casting For Recovery online at https://castingforrecovery.org/.