Fly fishing around Nashville, TN
North America By Tom Dempsey 09/2016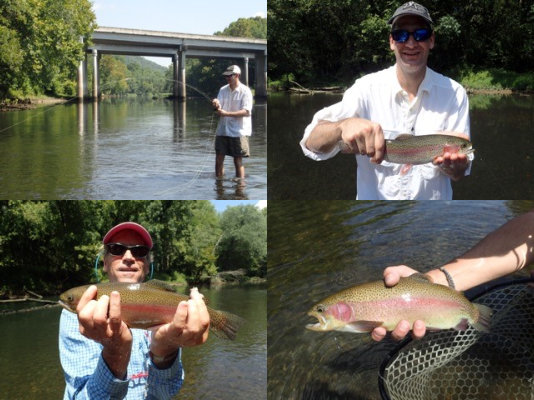 When it gets too hot on the saltwater to sling a fly, a short hike to the Nashville area (what's a 6 hour drive if you are going fishing?) will put you in  beautiful surroundings with several rivers to tap into. I had the opportunity to fish with my good friend and hunting/fishing guide, Chris Nischan on the Caney for trout.
The Caney is about 1 hour from Nashville with 22 miles of fly fishing friendly waters that hold monster rainbows and browns. Since it's a tailwater river (with a dam) the fishing is dependent on the generation schedule, which controls the water level by releasing water through the dam to create electricity. Fishing is wading from bar to bar in crystal clear water that tantalizes you with a close up view of your fish.
Chris has been fishing these waters for 25+ years and shares a wealth of knowledge on trout fishing to his clients. Close to Nashville are several other rivers that are worth a visit to the area. The Cumberland runs right through downtown and offers great fishing for large Stripe Bass. For a walk on the wild side, try fresh water Ladyfish, the Tennessee Tarpon, or better still, Alligator gar on a hookless fly made of polypropylene rope, intended to tangle in there teeth. The Duck, the Elk, and the Harpeth have bass, bream, and smallmouth bass.
A true Mecca for the fly fisherman, Nashville is not just noted for it's county music!!