Tarpon & Trout Tune Up Time!
Maximize your Spring & Summer Trips!
Brush-up on Skills Sets, Get Pointers from Pros.
Call Today!
Fly Fish the Gulf Coast
A few easy lessons can become a lifetime passion.
Addicting!
But in a good way. Learn to Fly Fish!
The Gulf Coast Fly Fishing School is excited to announce it's relationship with Music City Fly Fishing School.
Located in Nashville, Read more…
Give a unique gift of Fly Fishing Lessons!
You don't have to wait until a "special" day for the unique gift of fly fishing lessons.  Often times that person in your life is itching for a new experience or to tune up a stale fly-fishing stroke.  Make it happen for them.  Give a lesson or better yet a set of lessons in fly fishing. 
Live Life Well. Fly Fish!
GCFFS is now offering Guided Fishing Trips for a variety of Gulf Coast fishing experiences. Get off that couch and come enjoy a fishing experience sure to hook you!!
Casting For Recovery 2019
Casting For Recovery is a non-profit organization formed in 1996 in Manchester, Vermont, by a breast cancer surgeon and a fly fisher. The goal is to provide, at no cost to women with breast cancer, retreats where they may find inspiration, renewed energy for life, and experience healing connections with other women and nature. Why fly fishing? For women who have had radiation or surgery, the gentle movements in fly fishing can offer a soothing method of physical therapy. Couple that with nature and you have a powerful medicine.  
There were 14 women and at least twice as many volunteers for the 3 day retreat at Steelwood in Loxley, Al. Richard Miller, owner and developer of Steelwood, was a gracious host in a beautiful setting at the club house on the lake. Susan Gaetz, the national program director for CFR and a 20 year volunteer made sure every minute during these 3 days provided something that everyone could take back home to enrich their life. Currently CFR offers 60 retreats across the country serving some 800 women.  The Gulf Coast Fly Fishing school was honored to participate in this event. For more information go to Casting For Recovery online at https://castingforrecovery.org/.
Angler's Information
Do you need information and advice on fly fishing?  Contact us for information on locations, guides, species, tackle, solving casting problems, lessons, clothing and any other topic that you have questions about.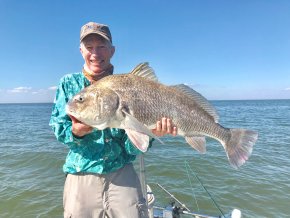 The Gulf Coast Fly Fishing School is honored to announce that Ed Chamberlain, master casting instructor, is joining the team as an instructor. Ed is a retired U.S. Army ranger who has fished extensively in the continental U.S., Patagonia, Mexico, and the Bahamas. He lives just outside of Atlanta and is an active member of the Atlanta Fly Fishing Club. He has taught fly fishing for many years in the Atlanta area and published articles on the "Loop", the online magazine for the Federation of Fly Fishing.
Dino Frangos, Tom Dempsey and Dwight Yoder are each Fly Fishing Federation Certified Instructors (CCI). They have fished locally, nationally and internationally for a myriad of fishes. Let them share their insight with you.