We are all three physicians by trade but fly fishermen by obsession. Over the years we have fished together. Told lies about the ones that got away. Compared notes on flies, knots, rods and reels. We have challenged each other to become better to the extent of becoming certified instructors through the Federation of Fly Fishers.
Curious about what it takes to become a Qualified FFF Instructor? See the Guidelines. [ PDF ]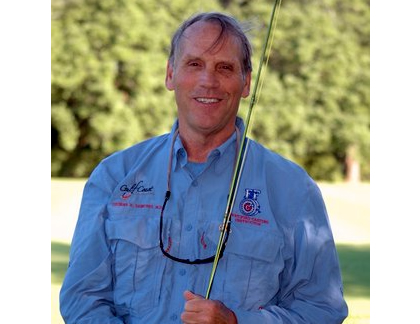 Tom Dempsey
Tom Dempsey, an orthopaedic surgeon by profession and a fly fisherman by obsession, has been chasing his passion for over 35 years. Since being introduced to the sport on a frigid stream in Alaska, Dempsey has chased fish from the Gaspe to the Amazon, from British Columbia to Patagonia, always returning to his gulf coast home waters. An instructor certified by the Federation of Fly Fishermen and expert fly tier this N,C. native joined with two fellow instructors to form the Gulf Coast Fly Fishing School, dedicated to teaching and promoting the sport of fly fishing.
In an  effort to continue offering the best resources for his students,Dr.Thomas Dempsey has received his certification for OPUV captain's license. What does this actually mean to the fly fisherman? By obtaining a captain's license, Tom passed four exams dealing with situations one might encounter when fishing, navigation, buoys and lights, fire fighting, conservation, weather, and boat handling are just a small part of the knowledge gained from the achievement of this goal.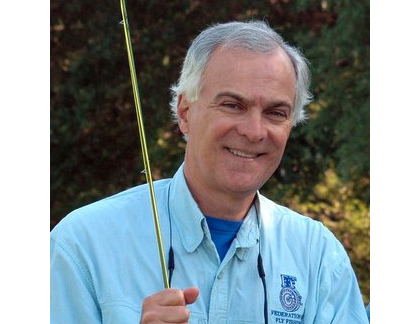 Dino Frangos
Dino Frangos is a retired physician from Mobile, Alabama. He loves giving casting lessons at the local parks. He is a Federation of Fly Fishers Master Flycasting Instructor and also a board member of the Federation's Gulf Coast Council. Although he enjoys trout fishing out West, he is more at home sight fishing for Gulf Coast redfish or pursuing bonefish and permit on the saltwater flats of Belize and Mexico's Yucatan peninsula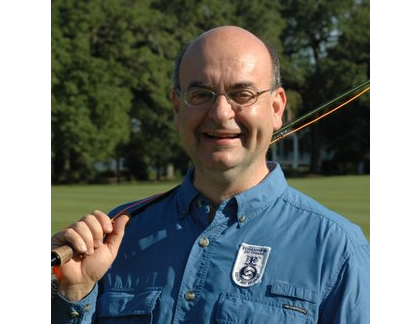 Dwight Yoder
Dwight Yoder is a pediatrician who lives down the street from Tom and Dino. He has been fly fishing since 10 years of age, when he begged his father to buy him his first fly rod in 1972 at Hudson Mills Sporting Goods near Ann Arbor, Michigan. The bass and bluegills of the nearby mill pond were no longer safe as he slung the latest dry flies from a Cabela's catalogue on his 8 foot fiberglass Daiwa of unknown calibration coupled with a bright yellow level line. Since that initial foray into the "silent sport" Dwight has travelled North America and beyond looking for fly fishing adventures and has been a CCI with the FFF for four years. He is equally at home throwing a 12 weight rod with a 650 grain head and a chicken sized fly at monster jack crevalles in Mobile Bay or gently lofting trout flies after spotted bass using a 3 weight split bamboo rod on his beloved black water creeks and rivers of Lower Alabama. No matter your fly casting needs Dwight can help you learn the skills you require. Look for Dwight in his next adventures in the summer of 2013 on the Mekong River Delta and Ha Long Bay of Vietnam as he pursues fish that have never before seen a fly.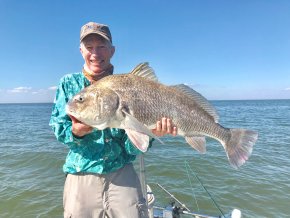 Ed Chamberlain
January 2020
The Gulf Coast Fly Fishing School is honored to announce that Ed Chamberlain, master casting instructor, is joining the team as an instructor. Ed is a retired U.S. Army ranger who has fished extensively in the continental U.S., Patagonia, Mexico, and the Bahamas. He lives just outside of Atlanta and is an active member of the Atlanta Fly Fishing Club. He has taught fly fishing for many years in the Atlanta area and published articles on the "Loop", the online magazine for the Federation of Fly Fishing.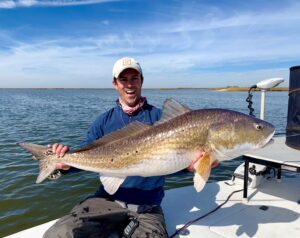 Nicholas Frangos
December 2020
Gulf Coast Fly Fishing School welcomes the association of Captain Nicholas Frangos. His expertise offers our anglers a referral source in Louisiana. For more information contact us via phone 251-648-7451 or through our website.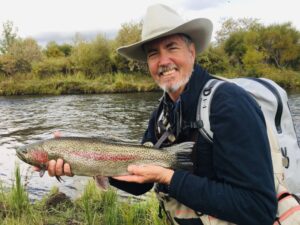 Chris Nischan
March 2022
Gulf Coast Fly Fishing School welcomes new guide Chris Nischan.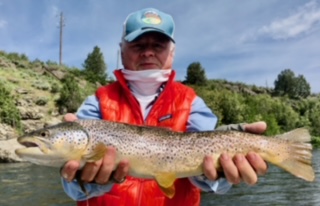 Chuck Iossi
October 2022
Chuck Iossi is a retired publishing executive who lives in Teton Valley, ID pursuing the mighty trout with a fly rod. He is a Fly Fishers International Certified Casting Instructor with 14 seasons of experience fishing the Upper Snake River drainage with principle focus on the South Fork, Henry's Fork, and Teton Rivers. Chuck is Board of Directors President Emeritus of Friends of the Teton River, a member of Trout Unlimited and FFI.  His fly rod has touched water in the Bristol Bay Region of Alaska, chalk streams of England, South Africa, France and many of the western rivers of North America.
Chuck and Doc Frangos collaborate giving regularly scheduled casting lessons to members of the Teton Valley community and love introducing beginners as well as experienced fly casters to the essentials of good fly casting.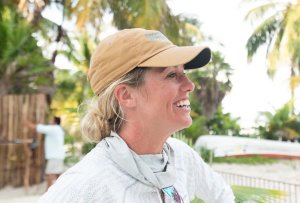 Capt. Danielle Davidson
January 2023
Capt. Danielle Davidson has an infectious passion for fly fishing and all things coastal. Her excitement when hooking into a redfish on the beach or a bluegill in the backyard can be felt by all around her. Fishing with Capt. Danielle will connect you with so much more than a fish on the end of your line. You'll experience and share in her passion for understanding the target species as well as the habitats our central Gulf Coast estuaries have to offer, from emerald white sand beaches and clear water oyster and grass flats to tannic backwater rivers and creeks. 
Danielle grew up in nearby Gulf Breeze, FL where from a young age, her father taught her the ways of finding and catching fish. Now, Danielle has connected her dedication to conserving local fish habitats and all who call it home with the culture of the fly fishing community. She supports and leads local and national fly fishing organizations, is a steward of responsible angling and fly fishing education, and is one of the leading female voices in the rapidly growing community of fly anglers. Capt. Danielle aims to ensure you have an inspiring day chasing fish, honing your skills, and enjoying some of the region's best fly fishing waters.
"To go fishing is the chance to wash one's soul with pure air, with the rush of the brook, or with the shimmer of sun on blue water. It brings meekness and inspiration from the decency of nature, charity toward tackle-makers, patience toward fish, a mockery of profits and egos, a quieting of hate, a rejoicing that you do not have to decide a darned thing until next week. And it is discipline in the equality of men – for all men are equal before fish." ~ Herbert Hoover