By Thomas R. Dempsey, M.D. CCI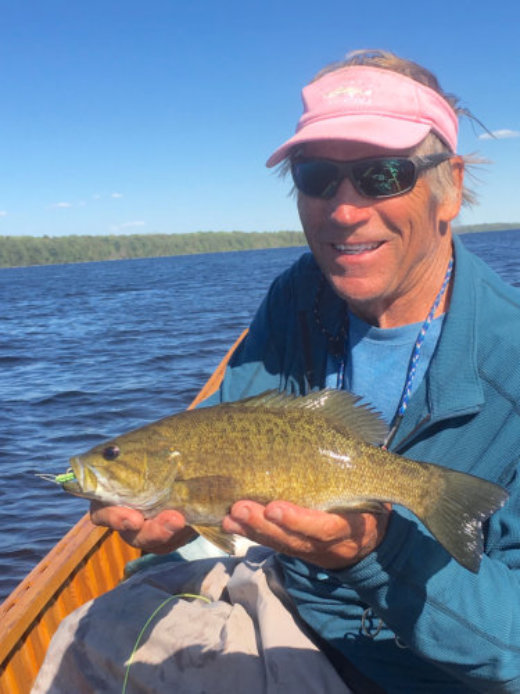 Just returned from a fishing trip back in time to the way it was done years ago in northern Maine. There's something about preserving the traditions of hunting and fishing in " the old days". We flew into Bangor and drove about 2 hours north through thickly forested country along winding roads with NO billboards – billboards are illegal in Maine. The camp, Wheaton Fishing Camp is located in the hamlet of Forrest City, maybe 6 or 8 houses. Built in 1921, it is a series of cabins on the shore of East Grand Lake, 8000 acres of smallmouth paradise. Patrick and Sandy Patterson bought the operation from Dale Wheaton, the son of the founder. Dale and his brother Art are still around, in fact Art, at age 78, guided us on Spednic lake, a lake he has guided since he was 17.
We started on day one with a hardy breakfast, typical of the north woods, and then paired up with our guides who had discussed the agenda for fishing based on more reports from fellow guides and the prevailing weather and winds. Grand Isle 20 foot ash and cedar canoes are our rides. They are as traditional as the waxed coats, fedoras, and high boots the locals wear. Powered by 9.9 hp outboards and paddle manpower, they can cover the lakes very, very well. All the spots on the lake looked the same to me, clear water with automobile sized rocks sticking up. The fishing seemed best in these rock gardens. The smallmouth come up over the rocks to warm themselves in the 60 degree water.   We fished the St. Croix, between the US and New Brunswick. Then Lake Spednic,16000 acres. Get the picture? Many, many glacier carved lakes, all with fish waiting for you. You could fish a lifetime on one single lake and not make a dent in covering it.                                                                                                                          
June is spawning time in Maine for smallmouth bass. That's when you can really hammer them. Seven wts., floating lines with 7 1/2 ft 15 lb. leaders will do it. They hit streamers and top water, but the way to really experience the moment is to cast, very little popper movement, not like with largemouth, then just wait, and wait, then, BOOM !!, fish on.                                            
Besides the smallmouth, there are lake trout, sun fish, pickerel, and non-native largemouth bass illegally introduced and not welcomed. They compete with the native smallmouth and will wipe them out. But they did taste good at the shore lunch. I have never had the guides put on a feed like they did on the shores, potatoes and onions always with beef, or pork, or sausage and of course, lobster and corn. The lunches were a ritual at which all the guides and anglers gathered together at noon with all present.        
We have our no-see-ums, Maine has black flies. Nothing keeps them completely at bay. On the water they are no problem, but once you hit land, bring out the Thermacll. No snakes, too cold. Moose and bear, plentiful. These people enjoy a freedom with nature that is slowly dwindling away. Most of the guests were older, except the ones there whose parents were regulars at Wheaton and were introducing their children to this unique way of life. Glad I got †o go before it is just a memory of 'How it was back then."