By Thomas R. Dempsey, M.D. CCI

Several years ago while fishing our annual Brazil trip, our on-site guide Matt Ramsey from Eugene Oregon showed us a video of fishing for Taimen in Mongolia. These fish are the largest saminoid in the world often growing to 50 inches or more and weighing in excess of 40 pounds. We were hooked. My fishing partner, Chris Nischan, and I decided to go. Since they only book 6-8 guest the positions fill fast. The first leg of the trip is a 15 hour flight to Seoul Korea, overnight to the capital of Mongolia, Ulaanbaatar, then to the camp on the river by antique Russian helicopter. We decided to stay in Seoul a couple of days – when are you likely to get to this place again? Our guide Sun Woo was excellent. She showed us the DMZ looking across the river to the fake North Korean cities, took us to the market for dining on live octopus, and finished it off with a traditional Korean barbecue. Then on to Ulaanbaatar to overnight in a small sparsely furnished hotel and on to the MI-8 vintage helicopters for a 3 hour ride with the Mongolian air force pilots, who pick up a little extra money flying the fishermen to camp. On to the Eg and Ur rivers, about 20 miles from the Russian border in northern Mongolia. We were escorted to our ger, a traditional Mongolian nomads living quarters, round and covered with hides warmed by a wood stove.
The rivers are clear and fast with marble to baseball size rocks. No paved roads, no cars, only Chinese motorcycles. No fences. The horses, sheep and a few cattle roam the vast grasslands clad "steps ", but beside most of the ger is a dish and a basketball goal. Most Mongolians speak 4 languages: English, Russian, Chinese and Mongolian.The Mongolians do not eat much fish. Even in Genghis Khan's day, their diet was mutton, goat, and horse. The horse meat we ate was o.k.
Now let's get to the fishing. The taimen is what the Mongolian angler experience is about. The taimen is kin to a salmon living in a few rivers in Russia and Mongolia. They can grow to a considerable size with the largest recorded being 231 pounds. A 50 inch fish is considered a trophy. They prefer grayling as their main meal. These fish literally crash the flies, often knocking it out of the water on the take. The take is what you come for. I've never seen a more vicious hit, and of course hitting a giant popper on top is the only way to go.  All taimen are catch and release. The taimen are best fished on a 9wt with a floating line, 30lb 6 ft leader with a huge popper, an over-sized juggler might be a better description. The best fishing is done from the boat. Your guide drops the anchor and lets the current move the boat down river as he holds on to the back and guides it. Some fishing is done from the banks but we did better walking the boat down river. Long casts with short pop, pop, pop, 3 inch strips is the method to attract these giants.
There are other species on the river that readily take a fly, dry flies especially. Lennox trout, sometimes called an Asian trout, are a real deal. Grayling and pike are there too. Pull up on the bank and drift a dry fly, it would be unusual if you didn't get a hit in less than a minute.
Even if you were not a fisherman, Mongolia is an intriguing country to visit. The scenery, the people, and the fishing make this an unforgettable experience.
Thomas R. Dempsey, certified casting instructor Mobile, Alabama.
Our Guide in South Korea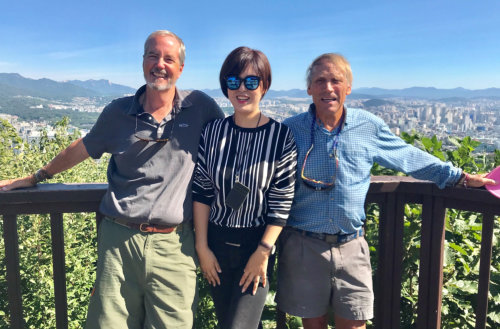 The DMZ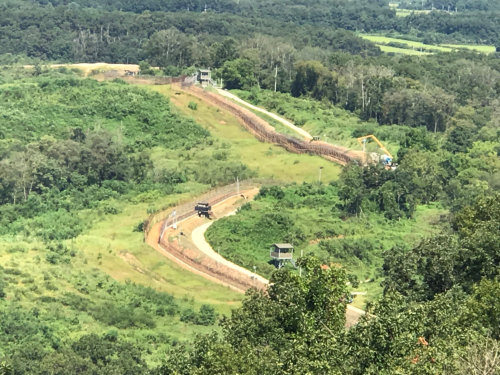 Russian MI-8 Helicopter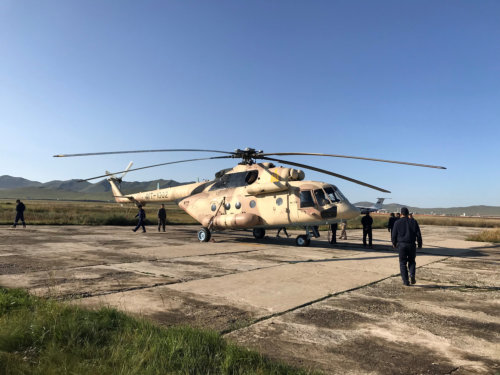 Our ger in Mongolia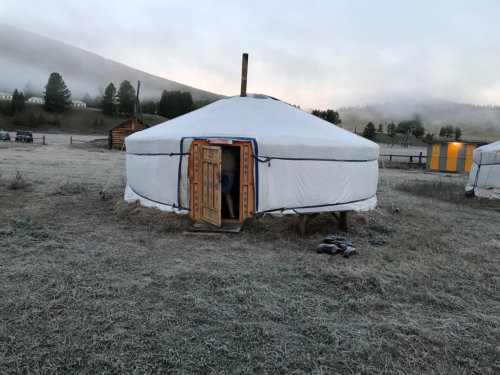 Poppers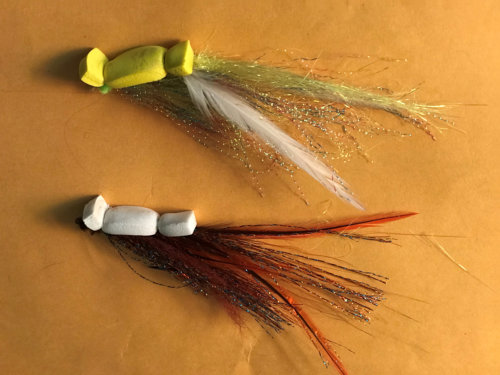 Taimen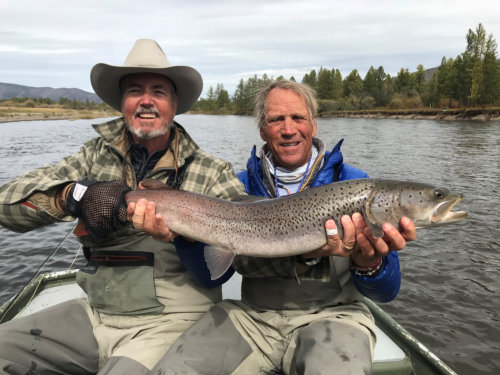 Taimen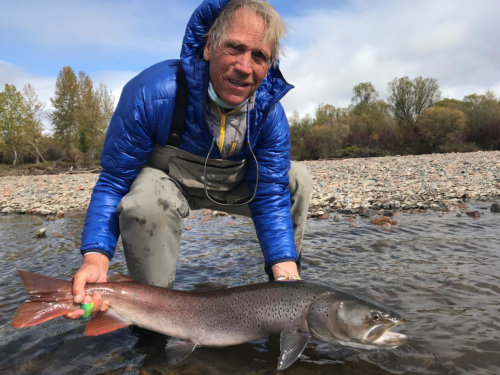 Lennox Trout